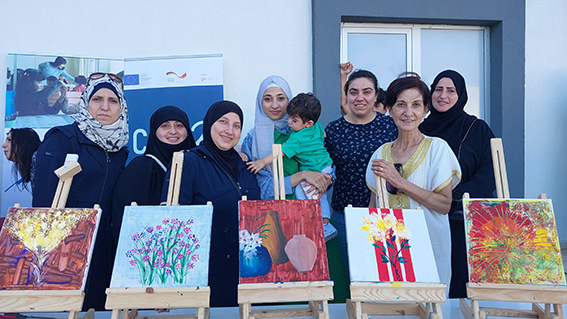 We exhibited the paintings produced by women in the painting workshops held at the Women's Consultation Centre in Esenyurt district of Istanbul at the Women's Festival organised by the Municipality of Avcılar. The volunteers who run the workshops and the women who make the paintings also participated. The paintings were met with great interest by the women and children attending the festival. We also distributed women's health brochures at the activity. The mayor of Avcılar Municipality Turan Hançerli also visited the exhibition and received information about the volunteers' work.
Hanan El Roobah, who runs the painting workshops and has been a MaviKalem volunteer for two years, shared her feelings as follows "The meaning of volunteering is to serve humanity. Volunteering is like donating. The sweat of your brow has no race or colour. Why am I a volunteer at MaviKalem? Because I can serve people here. I can spare two to three hours a day for most of society. The meaning of painting is to distract people from bad energy. If there is a person who cannot express his/her problem, he/she can silently express this problem with colours. The festival we attended was very entertaining. The women whose paintings were exhibited were also very happy. Their self-confidence has increased. Thank you for your struggle."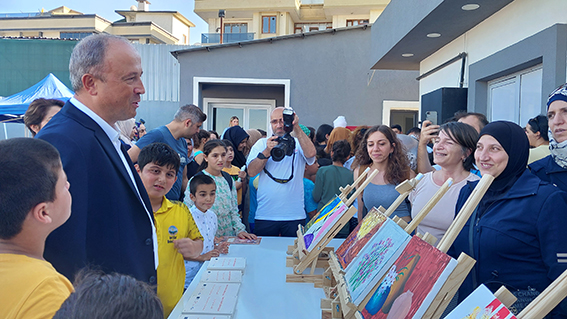 The women whose paintings were exhibited expressed their happiness as follows "I was very happy. We had the chance to show our paintings to people", "I was very happy. After all, everyone saw our products", "It was really good for us. Thanks to this exhibition, we felt that we were together", "It was very nice. It was good for our psychology. We did not encounter any problems. It was a great activity. Thanks to you, we entered a nice environment. Thank you very much".
You can find the news about our handicraft and painting workshops run by volunteer women here.