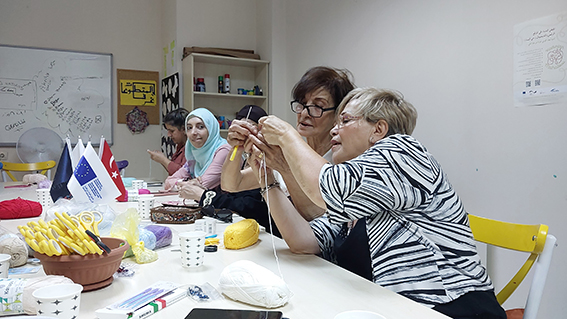 Handicraft and painting workshops conducted by volunteer women at the Women's Consultation Centre in Esenyurt district of Istanbul have started. These workshops, which are part of our activities with the theme of women coming together, talking, and sharing, and having a pleasant time, started in August. So far, we have held wool work, embroidery, and painting workshops with volunteers. Women participating in the workshops not only improve their handicraft skills but also chat and socialize together.
Women who volunteer at the Women's Consultation Centre join us after learning about MaviKalem and its work from their friends, relatives, social media and our counselling line. Workshops are organized according to the interests, skills and experience of volunteers who want to share their knowledge and experience with other women. In addition to the work carried out so far, we plan to organize workshops on wood painting, tailoring and sewing, recycling, needlepoint, jewelry design, haircutting and psychological first aid with our volunteers who are experienced in these areas.
"I produced something other than cooking for the first time in my life"
The women who participated in our painting activities express how they felt at the end of the event as follows "It was a very nice activity. We were very happy. We got out of the routine in our lives, even if a little bit. For the first time in my life, I produced something other than cooking", "It was a very useful, fun and exciting activity. It was as if we were forming five fingers of one hand with each other", "This activity was a big surprise for me. This is the first time in my life that I have participated in such a nice activity. Personally, I had a lot of fun. I would also like to participate in the wool workshops", "I came here to escape from home. I am very happy", "I felt good psychologically. When I met with the women here, I felt like I met with my family. I did not expect my painting to be so beautiful".
"We got away from stress and housework" 
Women who participated in wool work and embroidery activities say the following: "I am open to learning new things, my psychology has been very good thanks to this event", "It is a very nice event, I did not think it would be so crowded", "I never knew how to do wool work. I learnt something new", "I was very happy. Winter is coming, I am very happy that I will use the materials given to us at home and work", "It was very nice. I was open to learning, but I had no experience. I would like to thank MaviKalem for giving us this opportunity", "These kinds of activities are good for me psychologically, it clears my head", "It was nice. We got away from stress and housework".
"Volunteerism is both learning and teaching"
Renda Kaddoura, who carries out wool work and has been a MaviKalem volunteer for two years, shared her feelings as follows "Volunteering is everything for me. It is both learning and teaching. It is giving benefit and receiving benefit. At MaviKalem, I both learn and teach, so I am very happy."
These workshops, where we come together woman to woman, will continue to be held every week throughout the year.