Mavi Kalem has been an active member of the Core Humanitarian Standard Alliance since the Core Humanitarian Standard (CHS) was published in 2014. Since then, the Core Humanitarian Standard has been our fundamental ground to carry out our each and every project and work in an accountable and transparent manner. 2021 was a productive year in which we evaluated our work in tandem with the CHS Alliance, discussed our nationwide targets and 2022 projections.
One of the main objectives of the CHS Alliance and its members is the promotion and dissemination of the Core Humanitarian Standard in the member countries. The other goal is for member organizations to begin the process of compliance with the Core Humanitarian Standard and to evaluate their work. CHS Alliance holds meetings with its members at certain times of the year in order to decide upon the progress and implementation of the studies. These meetings include representatives from different countries working in the humanitarian field and using the Core Humanitarian Standard in their work. During the meetings held throughout 2021, the importance of CHS in humanitarian aid work was emphasized again due to the impact of the pandemic.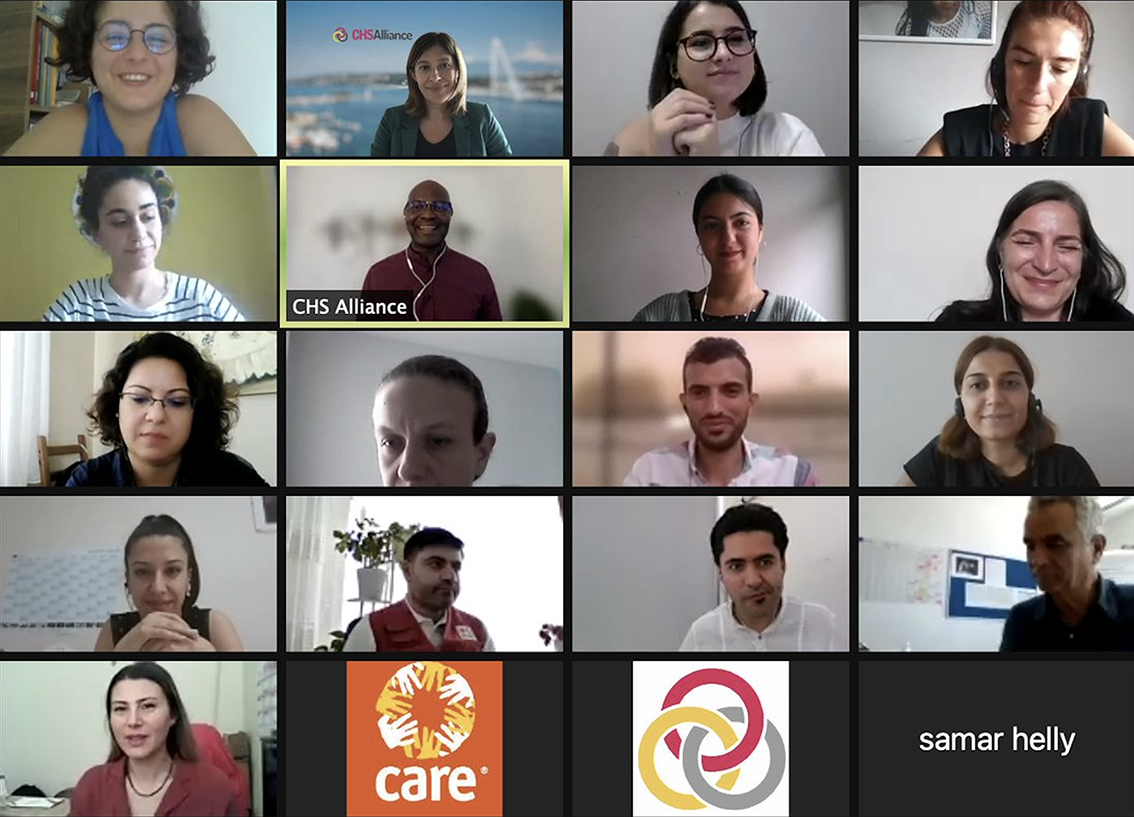 We organized the "Turkey Workshop-Bringing the CHS Closer to People We Serve" on September 9, 2021 with the CHS Alliance during which the Core Humanitarian Standard was explained along with its significance and how one may accede to it. Representatives of 64 institutions working in the field of humanitarian aid from 7 regions of Turkey attended the meeting. At the meeting, we discussed that the Core Humanitarian Standard is acknowledged in humanitarian aid in Turkey, however humanitarian organizations need support in order to implement these standards more effectively. In order to support and strengthen the practices together with the CHS Alliance, we plan to implement joint workshops for the implementation of CHS in the humanitarian aid field of Turkey in 2022.
In 2021, we applied "self-assessment" for Mavi Kalem's working structures and practices in terms of the Core Humanitarian Standard. In this assessment, compliance with 9 principles in the Core Humanitarian Standard was evaluated. This evaluation was addressed under three headings as Mavi Kalem's policies and documents, the relationship with the beneficiary, and the evaluations of the association's employees. After the self-assessment, we will continue with the "independent evaluation" and "certificate acquisition" processes.
In September 2021, the CHS alliance announced that it will update the Core Humanitarian Standard to remain relevant and consolidate within the framework of supporting and empowering people and communities affected by crisis. In this announcement, they stated that they need three members from local non-governmental organizations of different countries. Mavi Kalem applied in December 2021 for the update study to be carried out between 2022-2025 and was elected to the executive committee of the study.