Since the day we were founded, we have been carrying out women-oriented work. An important part of our efforts to empower women is to support refugee women.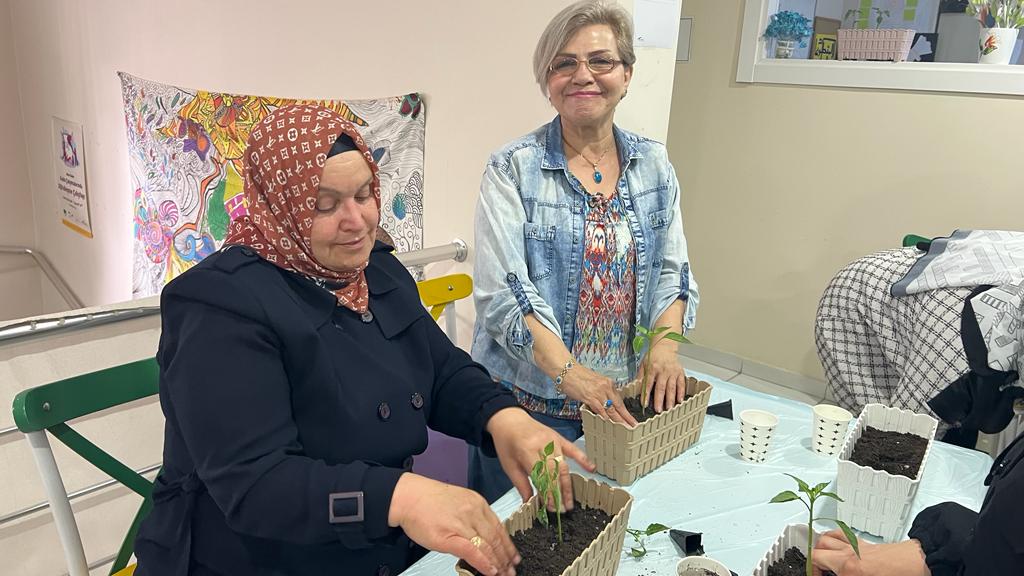 We organize various activities to support refugee women to get to know the environment and culture they live in, to share their own culture, to be in contact with other people in the society, to meet new people, to socialize, to exist in the society without being subject to discrimination and to feel as a part of the society.
Since the beginning of the year, we have organized 14 events themed of women-to-women meeting, talking and sharing, and socializing at the Women Consultation Center in Istanbul's Esenyurt district. A total of 243 women participated in these activities on travel, plant growing, food, art and sports, and most of them were refugee women.
In our center, we hold lunch meetings with women, organize planting and cultivation workshops, do breathing exercises and stretching, dance to music, and practice rhythm with musical instruments such as drums and tambourines. During the events, women meet new women, share experiences from their own lives, come into contact with different cultures and act in harmony together.
In our lunch meetings, we talk about women's "days", a tradition among women in Turkey where they get together and share dishes such as börek, barberry, stuffed, cake, potato salad. In our meetings we offer meals such as these and chat. Women talk about reception days in their hometowns, which are similar to the days in Turkey. They talk about making dishes such as falafel, kepse, and stuffed melons in their traditional women's days. After the dinner meetings we had so far, they expressed their feelings as "We are back to our old days", "We used to get together like this in Syria", "I felt very good".
In our planting and growing workshops, we talk about how to grow plants at home and what we should pay attention to when planting and growing plants. We implement what we talk about by planting pepper together. We learn that we can grow plants not only in pots, but also in recycling materials such as yoghurt containers and plastic bottles. Women are chatting about which plants are planted the most in their own country. At the end of the workshop, they make comments such as: "It was very good to work with the soil", "It was very fun", "I enjoyed it a lot. We added eggshells to the soil and I learned that it benefits the seedling".
In our arts and sports activities, we do breathing exercises and stretching movements, dance to music, and practice rhythm with musical instruments such as drums and tambourines. Women share information such as their favorite song, artist, flower, color and why they like it. They express how they feel at the end of the activities as follows: "I get bored when I go home. Everything is the same, so the work we do at home is the same. Here our routine has changed. We had a great time and had fun", "I was very relieved. All my nervousness and stress are gone", "I feel lighter both in my body and in my soul".
Apart from the activities in Women Consultation Center, we visited the Istanbul Archeology Museum in June as part of our trips to historical places. The women and their children who participated in the tour examined the artifacts in the museum with great interest. They took souvenir photos in front of some works. After visiting the museum, we also spent time in Gülhane Park. We had fun while singing along the way from the Women Consultation Center to the museum and back.
At the end of the trip, most of the women stated that they had a great day, that the works in the museum impressed them and that they were happy to meet new people. They stated that they want such activities to continue and that they also want to go to places such as the beach, aquarium, funfair and cinema together.