COVID-19 Vaccine Attitude Analysis Is Published
 "Covid-19 Vaccine Attitude Analysis Research Report of Syrian Communities" covers information obtained as a result of focus group discussions and monitoring the attitudes of Syrian refugees regarding vaccination throughout the pandemic.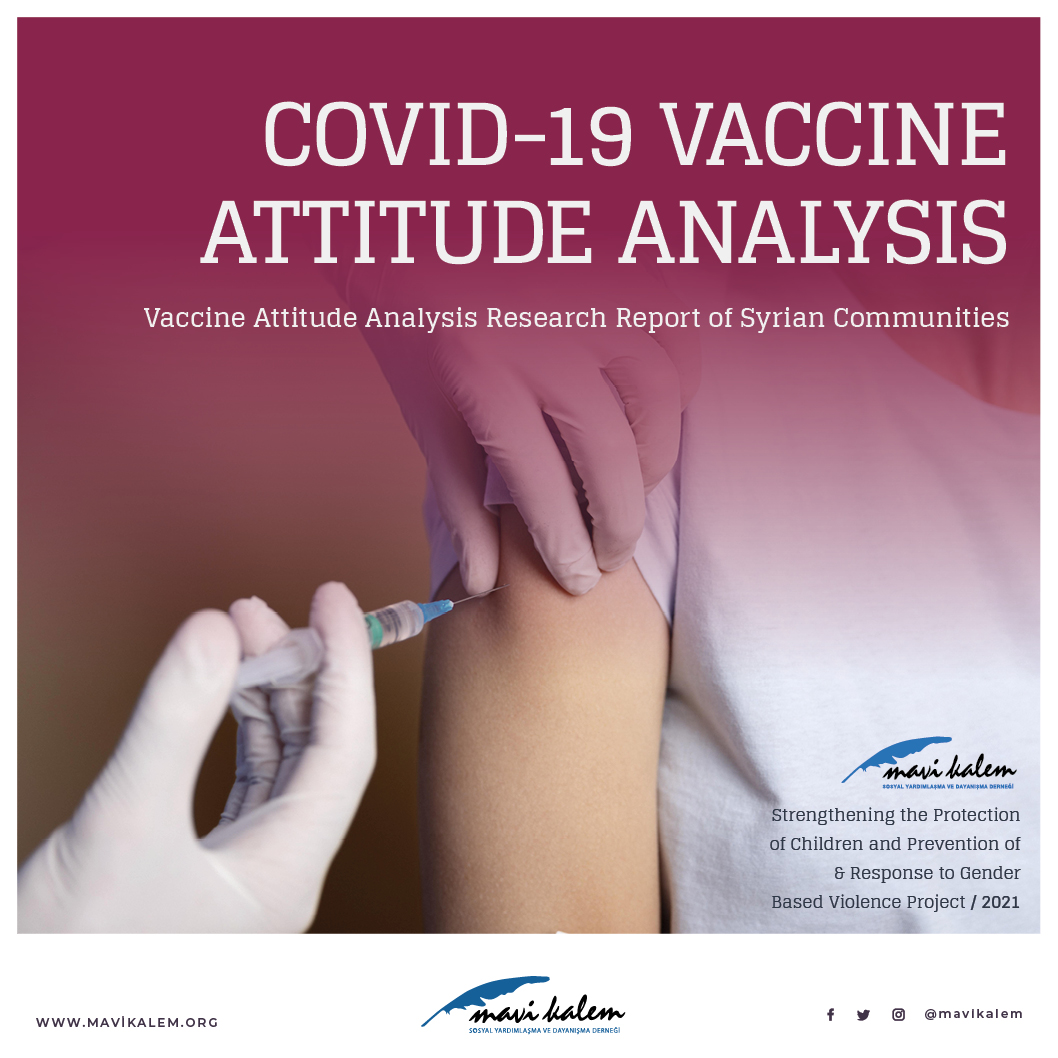 Vaccination of individuals over the age of 65 against Covid-19 had been initiated in Turkey started as of February 2021. Thereupon, we started to call and communicate with our beneficiaries in order to follow up on their vaccination status. During our calls, we asked them whether they had been vaccinated, whether they wished to be vaccinated, whether they needed support for getting appointment and information regarding this issue. We recorded the responses we received and analyzed them at regular intervals. When we looked at the analyses, we saw that a framework began to emerge regarding the attitudes of the Syrian communities living in Turkey towards vaccination. During our research on this issue, we could not find a comprehensive resource based on the vaccination status of Syrian communities and their attitudes towards vaccination. Therefore, we have limited our research with Syrian communities.
The phone calls that started in February 2021 continued until August 2021. Through these calls, we have included 455 people in the research. Afterwards, we wished to further contemplate upon the attitudes of Syrian refugees towards vaccination in order to better explain and contribute to the development of information dissemination strategies on vaccination. For this purpose, we decided to conduct focus group discussions with some of the beneficiaries we included from the calls. We formed small groups of beneficiaries who were indecisive about the vaccination process and Those who were strongly against vaccination. According to the data we collected from the calls, we have observed that the vaccination status and intention of women were lower than that of men. For this reason, we have determined and composed the groups predominantly of women. We have conducted the interviews via digital tools in July 2021. In the interview questions, we benefited from the beneficiaries' questions and answers we got from the previous calls.
As a result of the meticulous records and analyses regarding the steps of the study, we obtained important information about the attitudes of the Syrian communities living in Turkey towards vaccination: e.g. the vaccination rate is low, adverse speculations and hearsay received from social media and the immediate circle create an atmosphere of fear and hesitation against the vaccine, the vaccination status and intention of women with respect to being vaccinated had been observed as lower comparative to men. In the light of this information, we made some inferences and suggestions:
Social media should be used effectively in terms of vaccination studies for asylum seekers.
As asylum-seeking women dwell and live at home in a more confined environment compared to men, there is a need for specific information studies towards women concerning vaccination.
Vaccination studies planned to be carried out towards asylum-seeking women should also be designed in parallel to the same unique structure as the information studies.
Here you can find the report.