We have organized a workshop on Digitalization in Women's Studies which we have been meticulously planning for a long while. We gathered to evaluate the advantages and disadvantages of our rapidly changing working styles and habits incidental to the Covid-19 pandemic, the difficulties and conveniences that these changes brought to women's work.Representatives from non-governmental organizations which carry out work with women, local administration units that provide services specific to women, public institutions and funders participated the workshop.
Each speaker shared their experiences on digitalization in women's studies from their own perspective. Following the presentations, the World Cafe technique was applied and the digitalization process in women's studies was discussed under several headings in terms of beneficiary, practitioner and method. Thanks to this application, all participants were able to contribute equally to all workshop topics.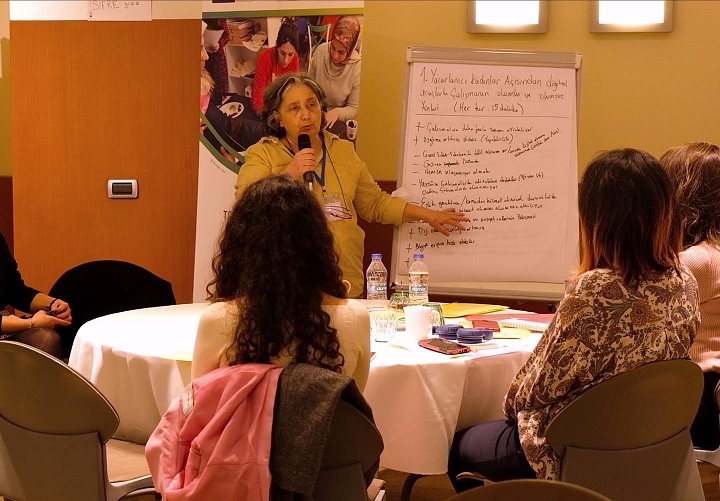 We would like to warmly thank to all workshop participants for their contribution for the assessment of the digitalization process in women's studies and for this fruitful workshop; the Maya Foundation, UNHCR, Support to Life, Migrant Solidarity Association, Esenyurt Municipality Directorate of Women
and Family Services, Şişli Municipality Women Consultation Center, Avcılar Municipality, WALD, Turkish Red Crescent, Foundation for the Support of Women's Work (KEDV), IFRC, Refugees and Asylum Seekers Aid and Solidarity, Association for Struggle Against Sexual Violence, Birey ve Toplum Ruh Sağlığında İZ Foundation (Bir İZ), Mother Child Education Foundation (AÇEV), Esenyurt Municipality Women's Family Unit, Violence Prevention and Monitoring Center (ŞÖNİM), Human Resource Development Foundation, Save The Children, ASAM, UN Women and Feryal Saygılıgil.
Digitalization in Women's Studies Workshop was held on March 31, 2022 as part of Women Consultation Center and Mentoring for Local NGOs Project supported by Deutsche Gesellschaft für Internationale Zusammenarbeit GmbH (GIZ) within the scope of "Improving Community-Based Social Services for Refugees and Vulnerable Residents of Host Communities in Turkey (CLIP 2)".
You will be able to access Mavi Kalem's Digitalization in Women's Studies Workshop report on our website.