In 2020, we celebrated the 20th anniversary of Mavi Kalem. We have commemorated the work we have been carrying out with the population, children and women affected by disasters and emergencies for 20 years, and we have accumulated excitement for the upcoming work.
The activities initiated by a few volunteers in the Marmara Earthquake in 1999 have spread to different regions and diversified in 20 years. In addition to this, the approach and values ​​determined when setting out 20 years ago have not changed, they have grown stronger.  Everyone who has crossed paths with Mavi Kalem have added their own color to life, and to Mavi Kalem, by coming together on the basis of volunteerism, and keeps doing so.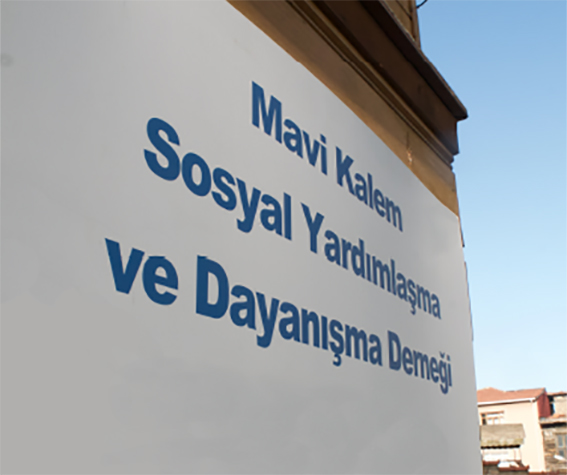 For 20 years, we have worked both in Mavi Kalem office and on the street to develop areas where children feel safe and can express their feelings and thoughts freely. In addition to supporting their access to fundamental rights and services, it was also very important to grow their dreams and creativity with street festivals and various events. Today, the work gathered under the Child Protection project continues in cooperation with the whole family for the protection and development of the children.
For 20 years, we have worked to empower women as individuals outside of their mother and spouse identities and to access their rights and services. Today, we are still working with hope and courage we had at a coffee house in Fener 16 years ago, where we organized the "See and Stop Violence Exhibition", which was created by women living in the region bringing tools and equipment used for violence. We continue to develop the Men's Participation Workshop Series for the Empowerment of Women, which aims to bring the gender equality approach to the whole family, in which men also participate in women's empowerment processes.
For 20 years, we have been conducting all our work on the ground, based on mutual exchange of ideas and cooperation with women and children who will benefit from these works. We want to continue working with a volunteer spirit based on cooperation, protection and empowerment for many more years.
To Many more 20 years!
You can watch the video we prepared for the 20th anniversary of Mavi Kalem from the link below.