Mavi Kalem has been working from home since the 17th of March to support the process of protection from the COVID-19 pandemic. This working style will go on for a while. Mavi Kalem maintains its activity as much as possible in this period in which people need more support than ever.
Mavi Kalem gives consultancy service by telephone and provides support according to needs. When it is necessary, people who call the consultancy lines are guided towards other consultancy services in Mavi Kalem or to other organizations. The consultancy numbers are popularized through social media, Mavi Kalem's website, and Whatsapp groups.
Additionally, Mavi Kalem also provides health and legal consultancy by telephone. Individual psychological counselling sessions keep going on digital platforms or by telephone.
Child protection and woman protection cases are still followed.
Activities with children, women, and men continue.
In Adana, information sessions about COVID-19 and recreational activities take place with volunteer groups of men and women on digital platforms.
Psychosocial support activities take place with children in İstanbul and Kocaeli on digital platforms. Until today, four rhythm activities have taken place. These activities were about washing hands to music, keeping rhythm, and keeping rhythm to shapes shown together with music. In the beginning of the activities, the children talked about subjects such as how they spent time at home and whether they could follow the classes. The importance of hygiene and washing hands were reminded. At the end of the activity, the children gave positive feedback and they asked when they were going to get together again.
Two trial small talk meetings about psychological self-care took place on a digital platform with the volunteer group of women that works with Mavi Kalem to popularize the activities of Esenyurt Women's Consultation and Solidarity Center. One of the meetings was held with Syrian women and the other with Afghan women. The women said that they were bored at home; and that it felt very good to see people form the center after a long time. Similar meetings are planned for other women who come to the center.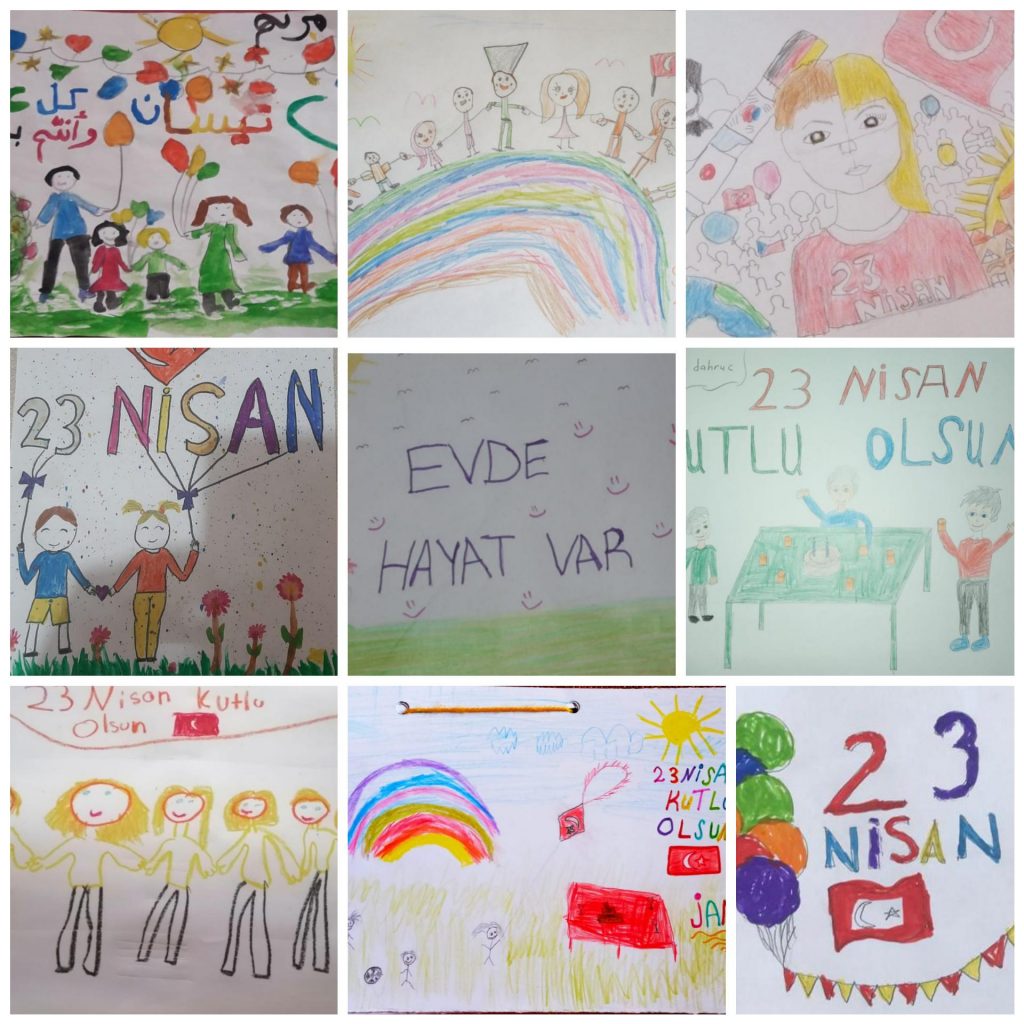 This year, the activities for April 23rd (National Sovereignty and Children's Day) also took place on digital platforms. Before the 23rd, a video was popularized in social media and Whatsapp groups in Turkish, Arabic, and Farsi in which a puppet asked children to draw their dreams and put the drawing on their window. On April 23rd, a puppet making activity took place on video call with children.
Furthermore, Mavi Kalem also popularizes information about COVID-19 via social media, Whatsapp groups, and telephone consultancy. Mavi Kalem Youtube account is getting more active with the videos about COVID-19.