The Covid-19 pandemic has opened a window of opportunity that allows us to develop innovative approaches which we will continue to benefit from.
With the declaration of a pandemic in March 2019, we immediately ceased our face-to-face implementations in order not to jeopardize our project teams or beneficiaries. We started to adapt all our work to digital tools, taking into account the conditions and feasibilities of the beneficiaries. We have rapidly developed our methods in this regard.
As a team accustomed to working in the field for, the pandemic had effected mostly the way we meet with the beneficiaries. In order to make it easier for more women to reach us, we have installed a consultation line on September 1, 2020, where we collect all our counseling and case studies. By means of Mavi Kalem Consultation Line, we have been able to make the necessary referrals both within our departments and to different institutions and organizations with more speed. Since we have seen that women used to reach us through applications such as Whatsapp and not the phone line, we enabled the line accessible via Whatsapp.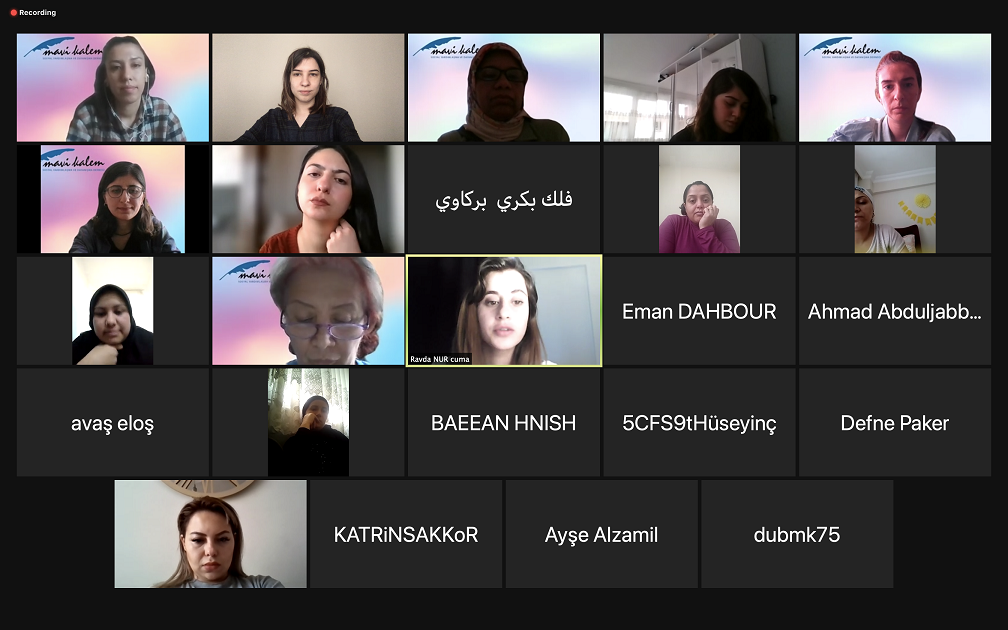 Whatsapp became a functional tool to deliver accurate information to women, especially in the first months where there was a lot of information pollution about the pandemic. Based on the information published by national and international institutions and organizations such as the Ministry of Health, the World Health Organization, and the Turkish Medical Association, we created and disseminated original content in Turkish, Arabic and Persian languages. Whatsapp has also become a convenient tool for informing about child protection and gender-based violence. Community volunteer women played an important role in disseminating information and announcements. Through their Whatsapp groups, they both disseminated information from us and directed women who want to benefit from our services to us.
We were able to announce the information works and activities during which we came together with digital tools to more women via Whatsapp. The most important difference of these activities from the activities held in the offices was that we could not provide the materials. For this reason, we preferred to conduct the activities with materials that can be available in everyone's home or without any materials. Conducting activities digitally gave us opportunities that we could not have thought of in advance. Suggestions concerning activities from women also supported us. We created rhythms from plates and glasses, visited digital museums, went to outer space, danced, made other useful items from waste materials, and we have realized many other activities.
During the pandemic, our need to come together has increased. We planned the activities we carried out with digital tools on a regular basis and at convenient times when women could find time due to their home conditions and workload. At the same time, internet use at home increased, and in some homes the entire household was using a single phone. We saw that women needed internet package to participate in activities and information sessions, and we offered a monthly internet package support to their mobile phones.
Digital tools provided a space where women residing in different places could come together. Women living in other cities or in neighborhoods far from our offices where we used to hold face-to-face activities were able to participate to online activities. These meetings were also an opportunity when women, who took responsibility of the increased workload at home and had difficulty in finding a place to socialize during the pandemic period, were able to spare the time for themselves.
One of the issues we had difficulty with in our work with digital tools was ensuring confidentiality and privacy. This was especially valid in case interviews and individual psychological counseling, where the safety and well-being of women and children was at stake. For these meetings, we reserved the option of meeting face-to-face by making an appointment in advance, instead of attending via digital means from home. We, too, had to be more careful than ever to protect the confidentiality of our conversations with digital tools.
Digital tools have become crucial in our lives during the pandemic period, and besides the distinctive challenges, digital tools have been elements that support our work. We have observed that we can maintain our connection with the field and respond to the needs of women under all circumstances. We reached places that we could not reach under physical conditions, diversified and strengthened communication through different channels. In this process, women also became more skillful to use digital tools and gained new skills. The Covid-19 pandemic has opened a window of opportunity that allows us to develop innovative approaches that we will continue to benefit from in the long run.
An Example to the Use of Digital Tools in Women's Studies
One of the innovations that digitalization brought to our work with women was digital applications. We developed the Women's Neighborhood application in order to create a safe space where women can socialize with digital tools and easily access the right information. Women's Neighborhood can be used from both mobile phones and computers. One of the things that ensures the reliability of the application for women is that it will be disseminated by community volunteers of the Women's Consultation Center. We aim to make the Women's Neighborhood an area that women see as their own neighborhood.
In the Women's Neighborhood; women will be able to access information they need and can use on issues such as health, education and legal rights. All informative texts in the neighborhood are prepared in Turkish and Arabic. There is also a chat section where women can chat with each other and share their questions and experiences. Here, thanks to the instant translation feature, every woman will be able to join the conversation in her native language. They will also be able to access the event calendar of the Women's Consultation Center, and follow the online and face-to-face events they want to attend within their wishes and possibilities.