Mavi Kalem Information Note (1) / 14 February 2023
Mavi Kalem is in the earthquake region…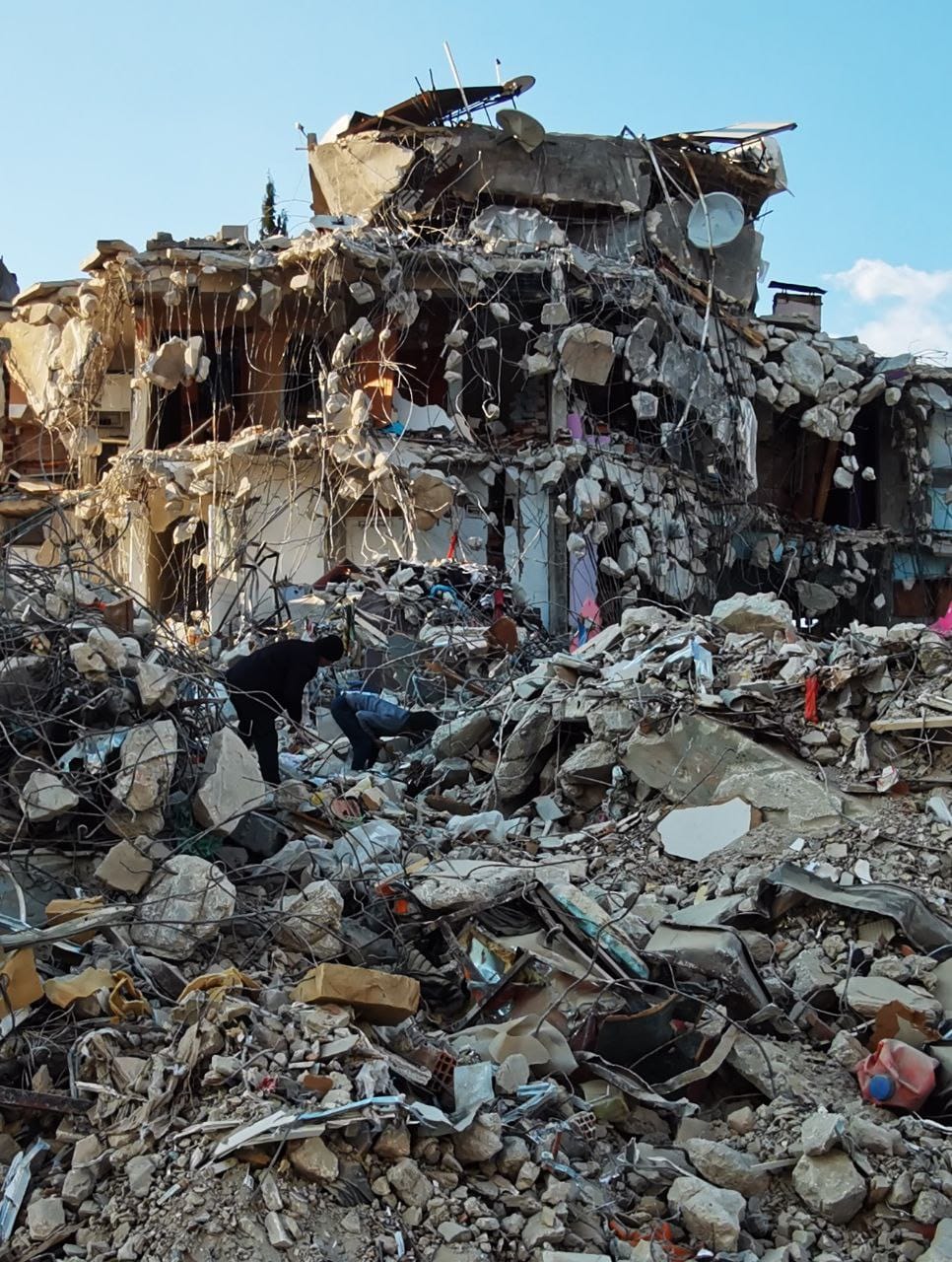 This information note is prepared to provide information about Mavi Kalem's work in the region affected by the Kahramanmaraş earthquake and it will be updated at regular intervals.
After the earthquakes that caused great destruction in 10 provinces of Turkey, we started our needs assessment, supply, and support activities for the needs in the region.
On the morning of February 6th, we started crisis management in order to do planning for the earthquake region and to provide the support needed by the beneficiaries and our teammates in current work.
While the needs were determined by our Adana Representative and our friends who arrived in the earthquake region from Istanbul, we set our goals by considering the lists of needs created by the public organizations and NGOs.
Due to our experience and field of work, we aimed to meet the specific needs of children and women.
Our teammates, who conducted one-on-one needs assessment with women in Adana, İskenderun, Serinyol and Antakya, also distributed urgent needs such as underwear, pantyhose, long undergarment, baby diapers, and wet wipes for women and children. While the preparations for the shipment of 24 tons of water to Hatay are currently being completed, it will be delivered and distributed to the region within a week.
We are continuing to determine the specific needs expressed by women and children in tent cities established in the disaster are and their transfer to the earthquake region. At the mean time we develop relations with the public institutions in the region.
After the earthquake, we meet the needs of support and referral requests coming to our Consultation Line. Also, we update our maps for services and referrals.
Testimonies from the Earthquake Region
"People who cannot access the tents have been staying with their children in cars or on the street for days. Those who cannot use their car due to debris falling on their vehicles, try to spend the night by lighting a fire if they can find wood, bush etc. and warming up around it." Antakya-Feb.8th,.2023
"There are families who do not go to the assembly area because there are voices coming from under the rubble, waiting by the ruins without tents and fire in the cold for their acquaintances to be saved. Some of them are families with children." Antakya-Feb.10th,.2023
"Children are crying from hunger, cold, or perhaps unrest. Shelter areas are very crowded with families since they either have not reached the tents or there are not enough tents to be distributed." Feb.10th, 2023
"We are staying 7 people in the tent, I stay with my son, daughter-in-law, and grandchildren. We have 2 beds inside the tent. Beds are not enough. The tents are cold, we do not have a heater. We are cold. I am sick, I use steam engine. I have asthma, diabetes, heart failure, and hypertension. People from one of the containers helped me. We need underwear and bras. We need slippers. Children also need clothes. Despite my embarrassment, I tell the master sergeants that we need underwear, they tell me to get in line. They snap at us, they say we do not give anymore, then they say come at noon and come in the evening, we wait in line again for hours. Volunteers work from the heart, but there are soldiers in between. There should be women at the entrance, so that we can tell our needs without embarrassment or blushing. Soldiers are doing their own duty, but they get aggressive and annoyed when the line is out of order." İskenderun-Feb.13th, 2023
"We need coats and our slippers are in very bad shape. They brought two different pairs. So be it, they still work for ablution. We do not have a stove, we do not have a blanket, we do not have a lamp. We need disposable underpad, they give them one or two at a time and we wait 2-3 days in the lines. Underwear did not come; booties and socks did not come either. There is no painkiller, I urinate more when I drink and there is a shortage of clothing, so I do not drink a lot of water." Betonsan/Antakya-Feb.13th, 2023
"We do not go to school anymore, I love school, but the school is about to collapse, I would like to go if there will be a new one. We want to be policemen. We are the only Syrians, there are no other Syrians here in the tents. My father speaks a little Turkish and I know Turkish, too. My brother needs diapers." Antakya-Feb.13th, 2023
"There is no electricity and no water. Toilets are very bad. We become shy and timid. We do not have water for ablution, we do not have a bathroom, there is no water in the sinks so we use drinking water." Antakya-Feb.13th,2023